Through its flagship fellowship program, by 2040 Lead for America aims to recruit, train, and place 50,000 of our nation's most dynamic, diverse, and high-integrity selfless leaders in high-impact local government,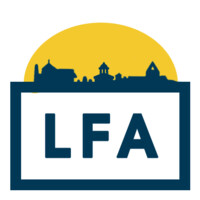 local non-profit, and civic-oriented local business roles to reinvigorate our civic institutions and serve as democracy entrepreneurs in the communities they call home.
We identify dynamic and diverse leaders ages 21-30 who already have shown a commitment to a life of service for a specific community or cause, and then give them the training, mentorship, and support they need before, during, and after a two-year paid Fellowship. All Fellows commit to at least four years of service to their community or their cause and while Fellows provide immediate value to the community in tackling projects of critical importance during their first two years, it is the long-term impact of having a representative, locally rooted, and nationally connected leadership force that we believe will drive transformative change for our nation. Our first cohort of 55 Fellows convened for their leadership development and public administration training in June of 2019, to begin their two year service in August.
Learn more and apply on Handshake!